Skyla Hi is Leading the change in advancing healthcare.
Reliable

User friendly

Maintenance Free

Two specimens per run

Fully automated operations

<6 min Test Time to Get the Result
Needs only 0.8ul Fingertips Blood or Venous Blood

Fully
The use of Skyla Hi in the management of diabetes enables better access to testing and rapid clinical decision making, discussion and implementation of optimized treatment. The HbA1c test only needs 0.8 µl of fingertips and venous blood. By highly efficient design, Skyla Hi allows two specimens tested in one run and verifies the validity of cartridge automatically. The testing result will come out in five minutes. Intuitive user-interface with 5″ full-color touch screen makes users easy to operate. Additionally, it comes with a collecting area on the top of the device for storing both carrier and cartridge.
Simple 5-step procedure
The Skyla Hi provides fully automatic procedures to test samples with only 5 easy steps:
1. Use the reagent pack to collect sample.
2. Insert sample to the cartridge.
3. Put the cartridge onto the carrier.
4. Insert the carrier and then press "OK" to start analyzing.
5. Read the results.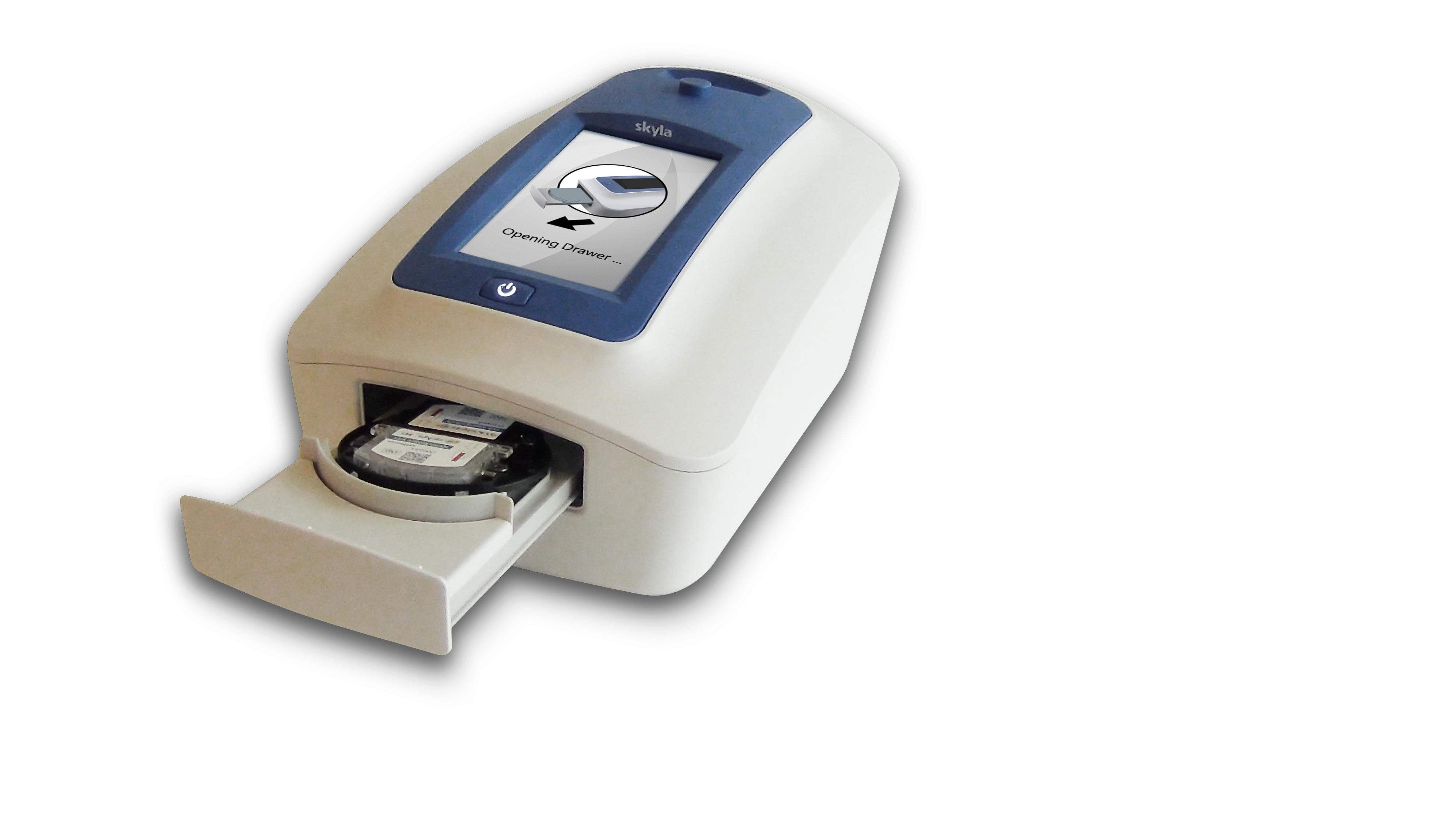 Two specimens per run
The device allows two specimens to be tested in one run.
6 minute test time
(depends on test) HbA1c takes only 6 minutes to complete the test. Lipid Panel and CRP only take 13 minutes to complete.
Only 0.8ul Fingertips Blood or Venous Blood
(depends on test) Without pretreatment. HbA1c test requires only 0.8μl/ CRP test requires only 5μl of fingertips or venous blood.
Fully Automated Operations
All steps are designed automatically from checking the validity of cartridge to printing the results.
Principle
Turbidimetric Method / Biochemistry
Device
| | |
| --- | --- |
| Testing Time | 5~20 minutes (depends on test items) |
| Display and Interface | 5″ TFT color touch screen LCD |
| Memory Capacity | 50,000 test results |
| Dimension of Analyzer | 270 x 188 x 148 mm |
| Weight of Analyzer | 1.7 kg |
| Dimension of Printer Module | 134 x 100 x 82.7 mm |
| Weight of Printer Module | 0.37 kg |
| Power Supply | 100~240 volts AC, 50-60Hz |
| Data Transmission | USB 2.0*4 / USB 3.0*1 / RS232*1 / RJ45*1 / Wi-Fi (optional) |
Reagent & sample
| | |
| --- | --- |
| Samples | Fingertips blood or venous blood |
| Samples Volume | 0.8 ~ 30 μL (depends on test item)                                                        |
| Storage Temperature (Reagent) | 2 ~ 8˚C |
Operating Condition
| | |
| --- | --- |
| Temperature              | 10 ~ 32˚C |
| Humidity | Relative humidity < 95% (Non-condensing) |