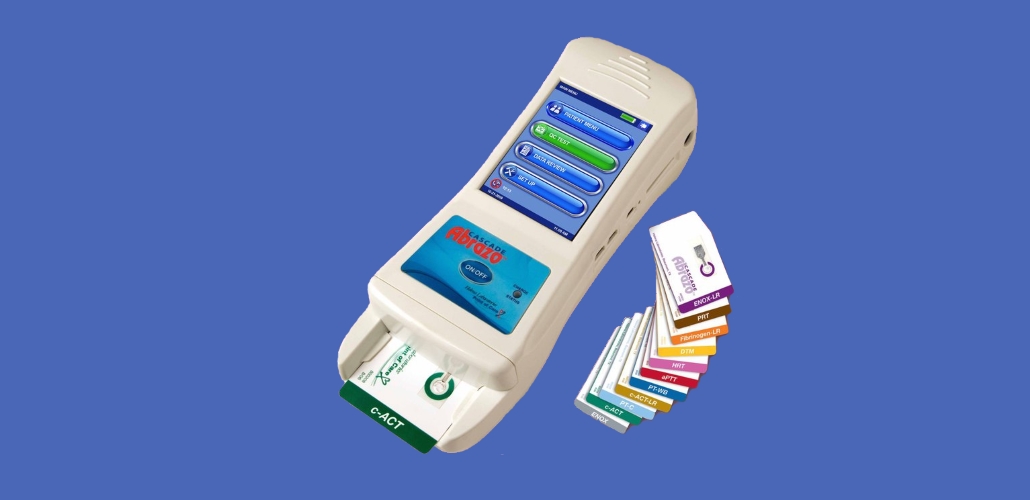 Coagulation testing at the point of care just got a lot easier!
Abrazo is a handheld, point of care hemostasis analyzer with an intuitive touchscreen interface, built-in barcode reader and an easy-to-use reagent platform.
The Abrazo c-ACT is intended for monitoring the effects of heparin. Other routine hemostasis and esoteric assays are in development. 
Touchscreen – Easy to use, step-by-step interface
Handheld – Ergonomic and lightweight
Portable –  Internal battery; Easily stored reagent cards
Connected – Administrative software, 2D barcode reader
Controlled – QC and operator lockout
Accurate – Assayed controls and electronic QC
Fast – Results in minutes
Specifications
Width: 89 mm (3.5 in)
Height: 86 mm (3.4 in)
Length: 215 mm (8.5 in)
Weight: 0.8 kg (1.65 lb)
Internal Battery Type: 2 rechargeable 3.7 VDC 3000 mAh batteries
External Power Supply: Input: 100 – 240 V AC, 50-60 Hz, 25 Watts max, 5 AMP
Output: 5.0 V DC
Temperature Regulation: 37 +/- 0.3ºC (98.6 +/- 0.5ºF)
Storage Temperature: 15 – 32ºC (59 – 89.6ºF)
Humidity: 10 – 90%, non-condensing
Operating Temperature: 15 – 32ºC (59 – 89.6ºF)
Relative Humidity: 10 – 90%
Altitude: 2000 meters
Shipping Temperature: -9 – 60ºC (15 – 140ºF)
Altitude 4269 meters
Installation Category II