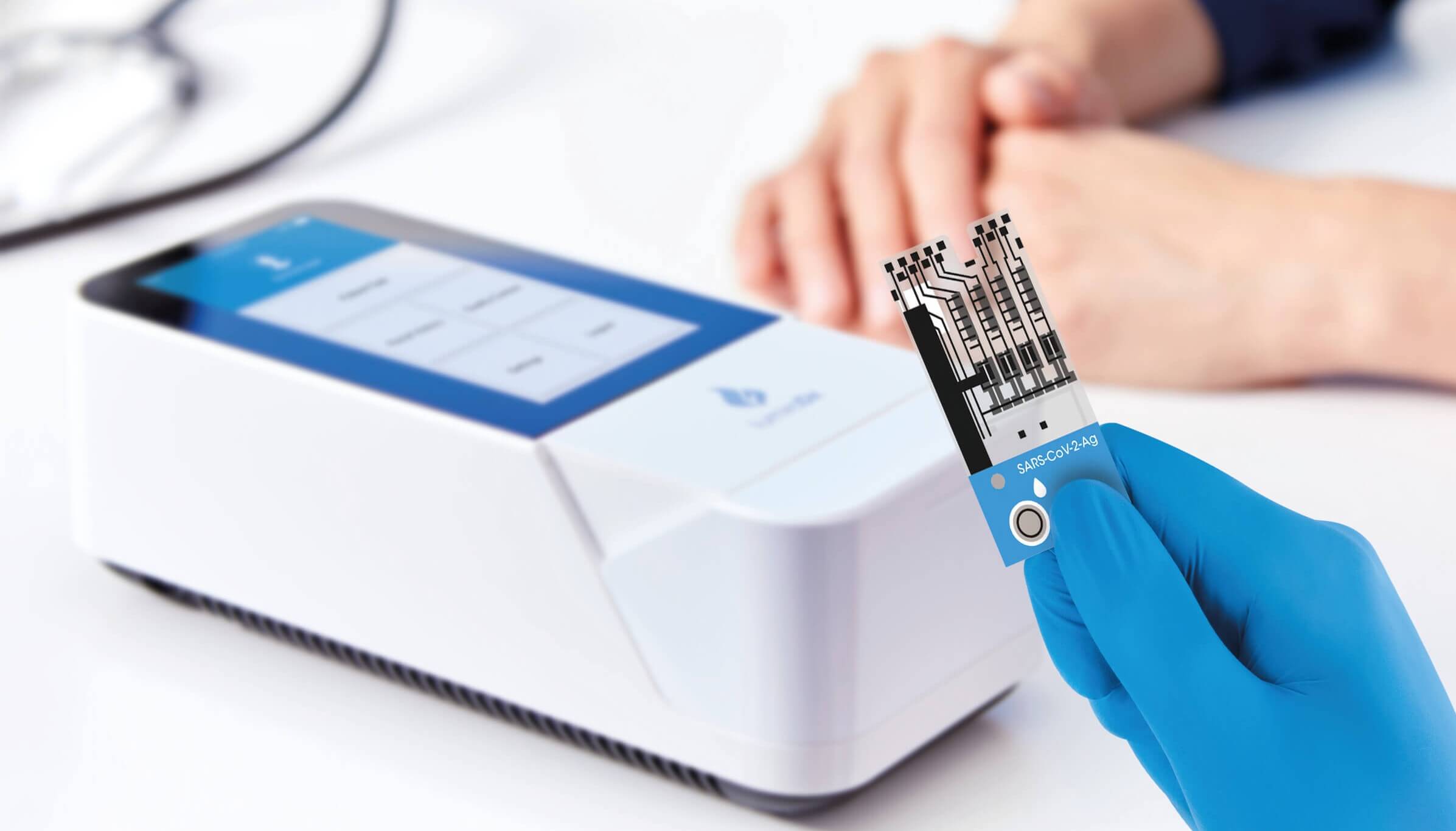 The LumiraDx Platform
The LumiraDx is an innovative, next generation point of care diagnostic system that combines a small, portable instrument, advanced low cost test strip and seamless digital connectivity.
The LumiraDx Platform and tests are designed on the same principles as lab analyser systems, to deliver accurate results compared to laboratory reference assays across a number of parameters, in a portable, easy-to-use point of care solution.
Its proprietary technology enables it to deliver performance referenced to laboratory standard assays, while being simple and easy to use.
Performance referenced to lab tests
Portable, seamless connectivity
One simple, intuitive test workflow
Fast results in minutes
All common clinical samples
Room Temperature Storage
High-performance features
The highly integrated LumiraDx Test Strip and Instrument interface deliver the following high performance features:
Precise sample fluidic control
On-strip fluid position sensors
Fluorescence or electrochemistry measurement
Immunoassay measurement in liquid-free environment
System controls cover strip positioning, electronics, optics, temperature, haematocrit and Test Strip expiry
Lot Calibration File instant transfer to instrument by RFID tag
LumiraDx Connectivity
LumiraDx Connect is a solution which offers a smart, integrated connectivity platform that uses the latest cloud-managed technology for use with the LumiraDx Platform.
LumiraDx Test Technology
LumiraDx Tests are produced on bespoke, high-throughput manufacturing line to deliver precise microfluidic test strips.
Use small clinical samples, including capillary blood
Can be used to measure a number of parameters
Quantitative or qualitative results are compared to standard laboratory reference methods
On Board Hematocrit determination integrated into some tests
Room temperature storage
Liquid quality controls are available
LumiraDx COVID-19 Ag Test
LumiraDx COVID-19 Ab Test