Quick antigen test kits optimized for on-site diagnosis with high accuracy
AFIAS COVID-19 Ag is an automatic fluorescence Immunoassay (FIA) for the qualitative detection of novel corona virus (eg, SARS-CoV-2, 2019-nCoV) in human nasopharyngeal swab. It is useful as an aid in management and monitoring of SARS-CoV-2 infection (COVID-19). This test is compatible with the AFIAS-1 and AFIAS-6 immunoassay systems.
* For in vitro diagnostic use only.
The AFIAS COVID-19 Ag test has a simple 3-step procedure
The AFIAS antigen test kit provides a fast and easy procedure for the qualitative detection of novel corona virus in human nasopharyngeal with only three steps:
Insert the sterile swab used to collect the sample into the extraction tube and swirl 5 times.

While squeezing the tube, pull the swab out.

Assemble a nozzle and the extraction tube, and then fill the sample well completely with the sample mixture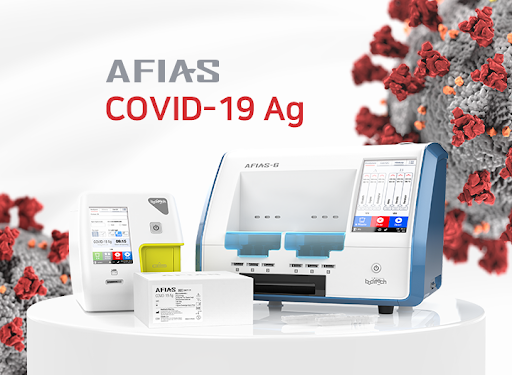 AFIAS COVID-19 Antigen specifications
Components
Cartridge
Pipette tip for operation
Extraction tube
Nozzle
ID Chip
* Note. the nylon swab is excluded from the components of the cartridge box.
AFIAS COVID-19 Ag Clinical Performance
RT-PCR
Positive
Negative
Total
Positive
21
2
23
Negative
3
55
58
Total
24
57
81
Clinical sensitivity: 87,5%
Clinical specificity: 96,5%
Specifications
| | |
| --- | --- |
| Assay type | TRFLFA*, COVID-19 Antigen |
| Sample type | Nasopharyngeal swab |
| Sample prep / extraction | Collecting with nylon swab |
| Target | COVID-19 Antigen |
| Platform | AFIAS 1/ 6 (Automated) |
| Unit | 24 kit/box |
* TRFLFA: Time-resolved fluorescent leteral flow assay