COVID-19 interleukin-6 test
The rapid interleukin-6 test kits from AFIAS are optimized for on-site diagnosis with high accuracy
Interleukin-6 (IL-6) is an early biomarker for acute inflammation to assist in the caring of critically ill patients or for identifying severe inflammatory response in patients with confirmed COVID-19. It is useful as an aid in management and monitoring of SARS-CoV-2 (COVID-19) inflammatory responses. This test is compatible with the AFIAS-1 and AFIAS-6 immunoassay systems.
* For in vitro diagnostic use only.
The AFIAS COVID-19 interleukin-6 test has a simple 3-step procedure
The AFIAS interleuking-6 test kit provides a fast and easy procedure for the qualitative detection of novel corona virus in human nasopharyngeal with only three steps:
Collect capillary blood

Place the C-tip in the cartridge tip hole and insert the cartridge into the slot

Press START to run the test

After you inserted the AFIAS Antigen cartridge in your AFIAS-1 or AFIAS-6 wait for 12 minutes. The results will pop-up on the screen and gets printed.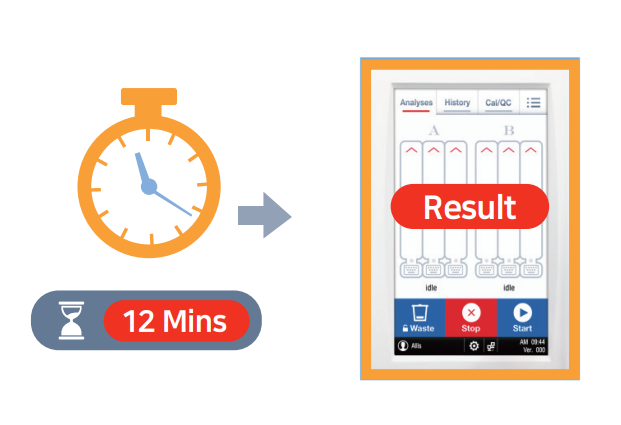 AFIAS COVID-19 interleuken-6 specifications
Components
Cartridge
Pipette tip for operation
C-tip for collecting capillary blood
ID Chip
AFIAS COVID-19 interleuken-6 competitor comparison
| | | |
| --- | --- | --- |
| | Boditech | Roche |
| Sample type | WB/Serum/Plasma | Serum/Plasma                                         |
| Sample volume | 30 µL (WB/Serum/Plasma/Capillary blood) | 30 µL |
| TAT | 12 min | 18 min |
| Instruments | AFIAS Reader | Cobas |
| Principle | Time-resolved fluorescence | Electro Chemiluminescence |
| Working range | 2- 2,500 pg/mL | 1.5- 5,000 pg/mL |
Specifications
| | |
| --- | --- |
| Assay type | TRFLFA*, IL-6 |
| Sample type | Whole blood/Serum/Plasma |
| Sample preperation | Finger or heel prick/Tube blood |
| Target | IL-6 |
| Platform | AFIAS 1/ 6 (Automated) |
| Unit | 24 kit/box |
* TRFLFA: Time-resolved fluorescent leteral flow assay