CHRONO-LOG Model 490 4+4 Optical Aggregation Systems
CHRONO-LOG® Model 490 4+4 Optical Aggregation Systems are NOW available in (4) or (8) channel Configurations, composed of one or two, 4-channel modules:
Model 490 4+ – can be purchased separately and includes Test Channels (1) thru (4), an internal AGGRO/LINK® computer interface with (2) software packages … AGGRO/LINK® Opti8 for performing Aggregation and vW CoFactor Opti8 for performing Ristocetin CoFactor testing plus a Starter Kit of Reagents and Supplies.
Model 490 +4 – expands the 4-channel module to (8) channels … Test Channels (5) thru (8) … requiring only a single interconnecting cable.
Model 490 4+4 – a complete 8-channel system [two, 4-channel modules]
Special Features include:
Sample Volumes – 250 µL [spacers not required] or 500 µL
Continuous Monitoring with Warning Messages for: Temperature, Stirring Speed and Over-range detection to prevent operation if baseline does not set.
LCD Display with Pushbutton Settings
Improved Calibration of Optical Circuits with NEW Calibration Kit
Customized/Selectable Tracing Colors
Aggregation with AGGRO/LINK® Opti8:
Ristocetin CoFactor Assay with vW CoFactor Opti8: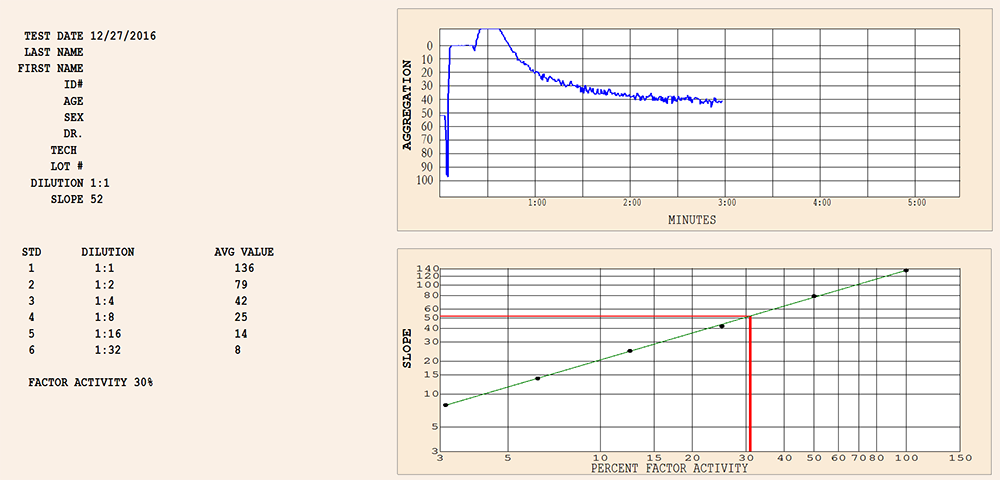 The CHRONO-LOG® Model 490 4+4 was launched in May 2017.
This instrument is FDA approved and CE marked and can be used for all clinical and pharmaceutical studies.