Reagents:
Diatron has been supplying high quality hematology systems for over 30 years.
Diatron hematology systems are comprised of analyzers and barcoded reagents, controls and calibrators. The systems were designed to ensure the highest performance and confidence in results. Diatron is ISO 13485 and ISO 9001 certified which ensures consistent product quality, supply and performance.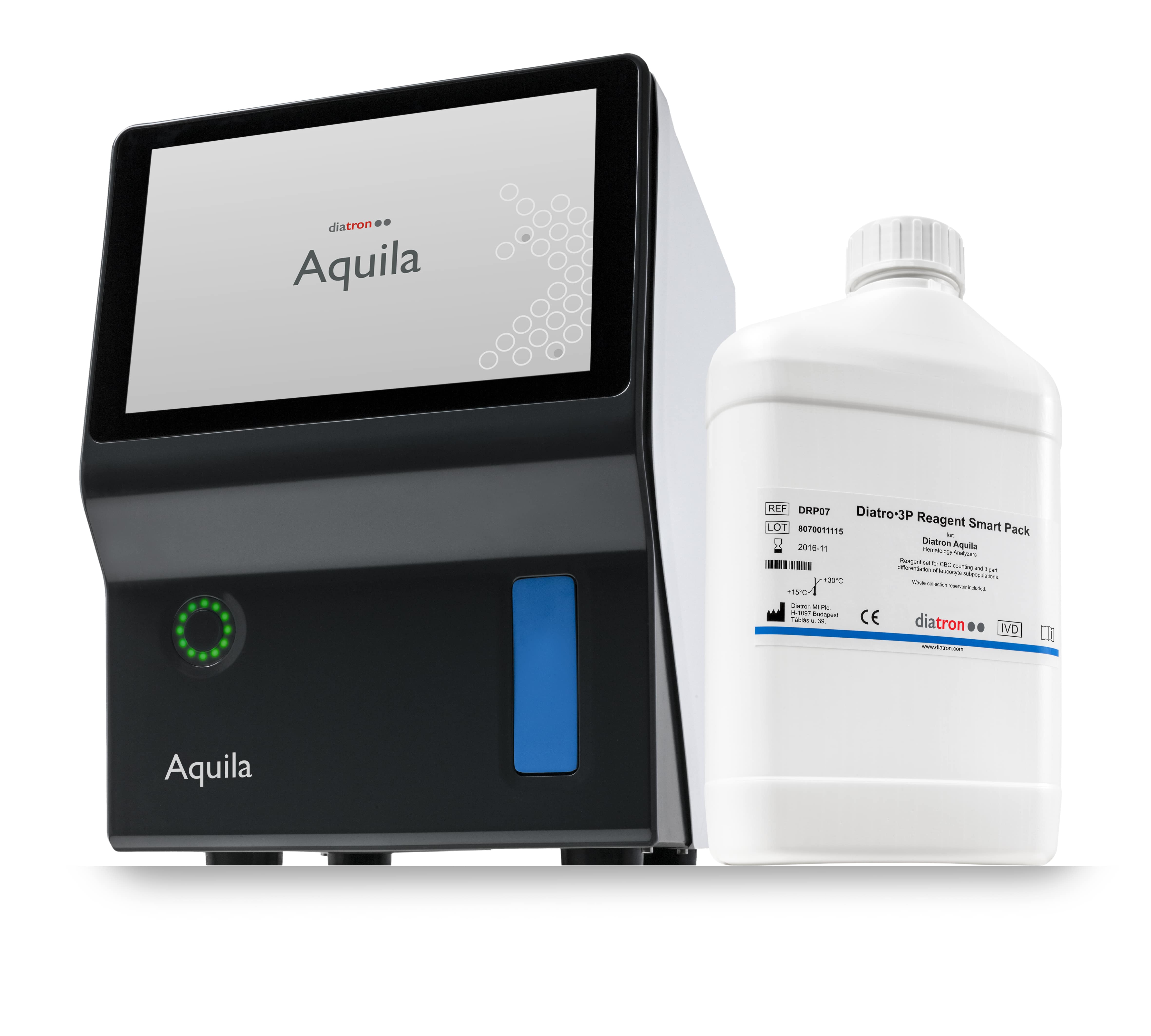 DRP074 Diatro3P Reagent Smart Pack
Key features: 
Assured quality

 

– All reagents are registered and CE certified. Our reagent factory meets ISO 9001 and ISO 13485 standards. Each batch of reagent is performance tested, whilst strict specifications and large lot sizes ensure a minimal lot-to-lot variation.
Environmental protection

 

– All reagents are cyanide free, thus protecting both animal and human health and the environment while our technology guarantees excellent product stability.
Long shelf life

 

– All reagents have an un-opened shelf life of up to 3 years or even longer.
Specifications:
4 x Diatro 3P Smart reagent bottles (DRP07) containing lyse and diluent

4 x Hypoclean CC vials
Haematology controls:
Diatron controls are specifically prepared for use with the Abacus analyzers to help check instrument performance and to ensure that laboratories meet or exceed their quality control requirements. To assess analyzer accuracy and precision over a wide range, controls are available in low, normal and high levels.
Material is supplied in convenient 3.0 ml volumes in pierceable screw cap vials, so are compatible for use with both open and closed sampling analyzers.
All Diacon controls require refrigerated storage, and have a long unopened shelf life.
Diacon-3 
Key features:
3-part differential Control
105 day closed vial
14 day open vial
2-8°C storage
 Specifications:
DN35001-SET – 6 x 3.0 ml (Low Control)
DN35002-SET – 6 x 3.0 ml (Normal Control)
DN35003-SET – 6 x 3.0 ml (High Control)
DN35004-KIT – 3 x 2 x 3.0 ml (2 each of Low, Normal and High Control)
Diatrocal 
Key features:
In order to produce consistently accurate results with patient samples, hematology analyzers should be regularly calibrated in line with the local quality recommendations and especially following an analyzer service. A convenient way to do this is to use Diatrocal universal calibrator material which has assigned system specific values.
45 day closed vial
7 day open vial
2-8°C storage